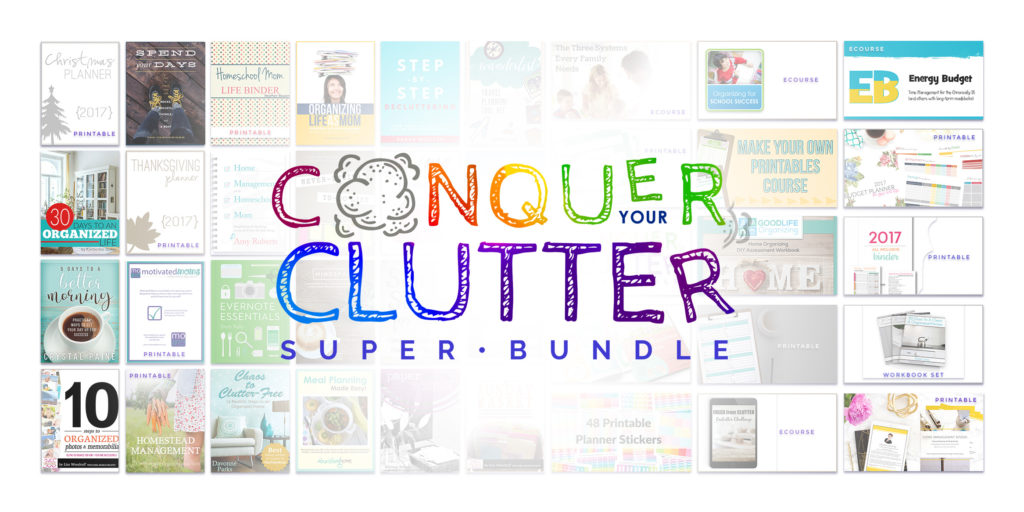 Happy beautiful morning!
Do you often feel like you're just one step away from flat-out crazy? Just when you get one closet decluttered, you find another closet door that won't shut? Or when you finally get your inbox empty, another stack of papers comes in the mail? Do your household tasks just keep piling up so you start feeling desperate, wondering how to find the time to develop a system that works for you, how to squeeze in more decluttering, and how on earth you can get your family to participate. You wind up feeling MORE overwhelmed than you were in the first place.
But what if you could find systems that work for you, not against you? Solutions that will – at last! – be the organizational remedy you've been waiting for? Aaahhh…sounds wonderful doesn't it?!!!
Guess what? I think I've found some wonderful resources to help you: The Conquer Your Clutter Super Bundle from the Ultimate Bundles team.
So, what's included? It's a curated collection of 38 eBooks, eCourses, and printable planners to help you organize your life, created by people who've learned how to conquer all the different types of clutter (physical, mental, digital) in their life – and win!
The combined value of the resources in the toolkit is over $650, but you get EVERYTHING for 95% off!
If you are ANYTHING like me and you've struggled to find systems to help you streamline your life and inject some much-needed peace into your home, the Conquer Your Clutter Super Bundle will remove that barrier for you.
Worried you won't know where to start with all the resources in the bundle? NO WORRIES! Inside the bundle you'll find a handy Getting Started Guide so you can take action right away.
Wondering what I think? I find that I absolutely LOVE buying and using the bundles from Ultimate Bundles and I am ecstatic for this Conquer Your Clutter Super Bundle!!! I cannot wait to dive into it all…it's like Christmas all over again for this mama!
What are you waiting for? Don't miss out on this AMAZING deal that is chocked full of resources to help you organize and plan your household more effectively and leave you feeling at peace!
Blessings & Love,
Blessed Mama
P.S. Remember to buy The Conquer Your Clutter before it expires on Monday, January 30th at 11:59 PM EST!