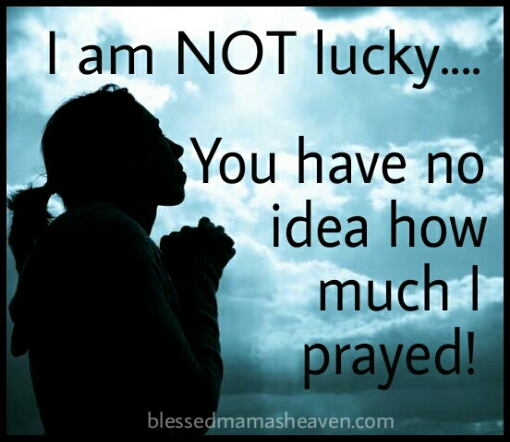 Do you consider yourself lucky or faithful in prayer when your prayers are answered?
When you need or want something, do you talk to the one who can make things happen? Yes, I mean God, the one who hears all prayers! Even when you don't have the words to speak, He hears what is in your heart & counts your tears.
You keep track of all my sorrows. You have collected all my tears in your bottle. You have recorded each one in your book.
~ Psalms 56:8
If you are faithful in prayer and pure in your heart, God will answer your prayers when & if He knows it is right…you need only to be patient! If God does not answer your prayer, it is because He has something better in mind for you, and not because He did not hear your prayer, nor because you are unworthy…for God loves you & thinks you are worthy!
If you do not ask God for your heart's desires, you can not be disappointed when they go unanswered.
Take delight in the Lord , and he will give you the desires of your heart.
~Psalm 37:4
So, will you rely on luck or God's faithfulness in answering prayers to help you through life?
PRAY…Speak to God, the one who hears & answers your prayers!
Then you will call on me and come and pray to me, and I will listen to you.
~Jeremiah 29:12

❤ Blessed Mama ❤