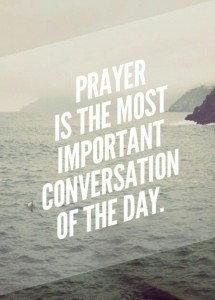 AMEN!!!!!!!!
Prayer is the MOST important conversation of the day! Remember to pray…pray about your struggles, your dreams, your blessings, your enemies, your faith, your relationship with God…JUST PRAY; have a conversation with God, DAILY! Not only does God love you and desire to be close to you, he also, hears your prayers, he listens to your pleas, he feels your heart, he sees your tears, and, best of all, he does answer prayer!
My prayer for you (taken from 2 Chronicles 6:39)
Lord, hear their prayers and their pleas, and uphold their requests. Forgive those who have sinned against you and make them whole. Give them purpose, faith, and patience as they wait for your response. AMEN!  
If you are in need of prayer, or know someone else who is…PLEASE contact me so we can add a prayer for you/them!
Be Blessed,
❤ Blessed Mama ❤