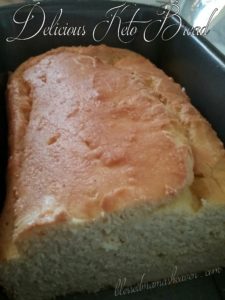 Delicious Keto Bread
It is VERY difficult to find Gluten Free or Low Carb bread and bread recipes that taste good! Most of the time they have an "eggy" taste or are as tasteless, dry, and as hard as cardboard…ick!
Since starting my Keto lifestyle, I have tried many, many recipes that are low in carbs (this is GF as well) & I found this recipe to be the most moist & best tasting by far!
Who says I can't enjoy a PB&J sandwich while eating low carb…yummy!
Enjoy! And please rate this recipe after you have made it!
Blessed Mama
Delicious Keto Bread
5 minPrep Time
40 minCook Time
45 minTotal Time
Ingredients
6 Large Eggs
1/2 C. melted butter
3 Tbs. melted Coconut Oil
1/3 C. Almond Flour
1/3 C. Protein Baking Mix (I use Quest)
1/3 C. Coconut Flour
1 tsp. Baking Powder
1/2 tsp. Xanthan Gum
1/2 tsp. Salt
Instructions
Preheat the oven to 350°F
Scramble eggs until they are completely mixed.
Add melted butter & coconut oil and mix.
Add almond flour, baking mix, coconut flour, baking powder, xanthan gum, and salt.
Mix well until mixture is like pancake batter.
Pour dough into a greased loaf pan.
Bake about 40 minutes or until the top is browned and the middle is solid.
Notes
Per Serving: 127 Calories 16g Fat 1g Net Carbs
http://blessedmamasheaven.com/soulfood/delicious-keto-bread/