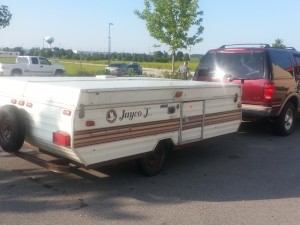 Woop woop….IT'S CAMPING SEASON!!!!!!! We were so excited that we were able to buy a "new to us" pop up camper toward the end of last summer. Although it is several decades old, it was in considerably good shape. We have been wanting something we can camp in & keep some of our camping supplies in so we would not have to "over-pack" our Expedition to the max, nor continue to spend hours setting up & tearing down our tent & camping supplies. We did get to use it several times before having to close it up for the winter (booo), but now, after a long, rough winter, the weather is FINALLY warming up and we have been "biting at the bit" to get back to camping!
We decided that we would use it for our first "real" family vacation when we head south to the beach this summer. We do an exuberant amount of fun, quality activities with our sons (such as camping, fishing, canoeing, hiking, road tripping a state or two away, and one of our absolute favorites, to stay at Wisconsin Dells), but we have not actually took more than 4 days to road trip, vacation, and explore different areas of the U.S. Talk about being excited..I have always wanted to travel south & to see & swim in the ocean, and now that I have hit the BIG 4-0, I would love to check these two dreams off my 'bucket-list"…so let the planning & preparation begin…
Now, here comes the struggle in deciding where to go (we KNOW are going to the ocean), what sites/cities to see (our family interests are plantations, historical sites, Civil War site destinations, museum, wildlife…), which campgrounds to stay at, making a vacation budget, outlining a trip plan & to get moving on the remodeling of our pop-up camper. We are excited to remodel our camper as a family and want to be sure to make it as "homey" as we can so we can have the sense and comfort of home, as we embark on our new journeys.
Yesterday, I spent the whole day going to consignment/goodwill stores, JoAnn Fabrics & Shopko to hit up some deals & sales. I was ecstatic to find some GREAT deals on some amazing curtains and to find a few other odds and ends that I would like to use to "liven up" our camper. I also made some "mental notes" on some other decorating ideas that I will add when we get to that point in our remodeling (such as the shades of paint for our cabinets, several different types of flooring, and some Christian & family wall quotes). We did plan on starting on our remodeling project this weekend, but our forecast looks to be, yet, another wet & cooler one, so we might have to wait on this 🙁
We will keep you updated on our progress and add pictures to show the changes we make as we can, meanwhile, please visit my Pinterest board, Happy Camper, for more CAMPING ideas, quotes, tips, tricks & pictures!
If you have any suggestions, stories, ideas, tips, or tricks for beach or trip destinations, cities, campgrounds, family fun ideas & areas, or camper remodeling, please let me know! Any suggestions are GREATLY appreciated…Thank You in advance!
Have a blessed weekend…
Love & Blessings,
❤ Blessed Mama ❤