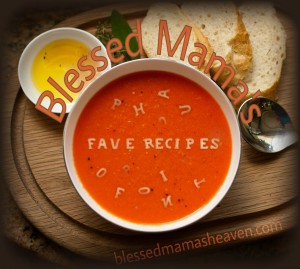 Blessed Mama's Fave Recipes
I love to COOK and am an amazing cook (at least that is what my friends & family tell me..lol), so I will be adding some of my favorite recipes for you to try and do include many other versions in most of my recipes (healthier, vegetarian, low carb, dutch oven etc.)….so ENJOY!
*STILL IN PROGRESS- Please visit often to check out the new recipes as we add them! Meanwhile, please SUBSCRIBE to my blog for updates & posts! Thank You for your patience!


This slideshow requires JavaScript.
Appetizers
Breads/Rolls
Breakfast
Camping
Drinks
Low Carb/Gluten Free (<10g carbs ea. recipe)
Main dishes
Salads
Sandwiches/Burgers
Side dishes
Snacks
Sweet Treats